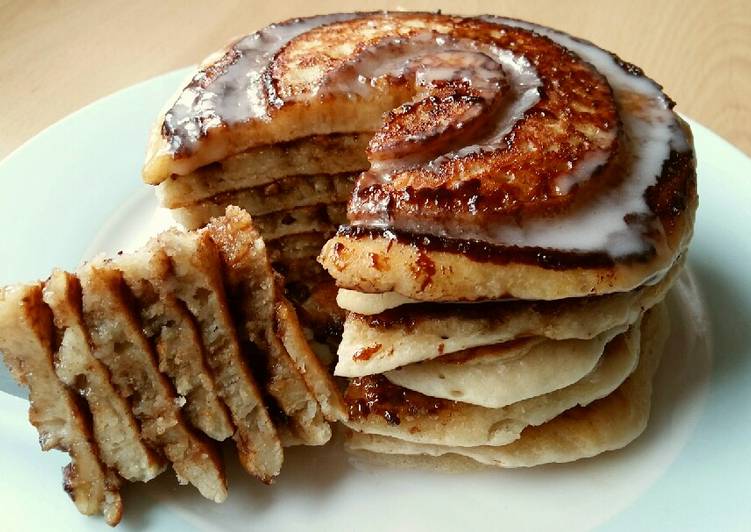 You can cook Vickys Cinnamon Roll Pancakes, GF DF EF SF NF use 15 ingredients and 9 step. Here's how to cook }.
Ingredients make Vickys Cinnamon Roll Pancakes, GF DF EF SF NF
You Need gluten-free / plain flour.
You Need xanthan gum if using GF flour.
You Need baking powder.
You Need light coconut milk.
You Need maple syrup.
You Need granulated sugar.
You Need sunflower oil.
You Need vanilla extract.
You Need Cinnamon Swirl.
You Need sunflower spread.
You Need brown sugar.
You Need ground cinnamon.
You Need Topping.
You Need icing sugar (1 cup confectioners).
You Need water (1/8 cup).
Steps make Vickys Cinnamon Roll Pancakes, GF DF EF SF NF
Whisk the dry ingredients together and the wet seperately. Use the lesser amount of milk for plain flour.
Stir together until just combined, don't over mix. Let stand while you prepare the 'swirl'.
Cream the sunflower spread, brown sugar and cinnamon together.
Spoon into a piping bag.
Lightly oil a frying pan over a medium heat. Make a small test pancake to check the pan is at the right temperature. If the colour is uneven, the pan has too much oil and the heat is too high.
When you're happy, add batter to the pan. This recipe will make 8 large pancakes but once the topping is on they've very sweet so stick to smaller ones around 4 inch diameter. You should get around 14 – 16.
Cook until small bubbles start popping on the surface then add the swirl. Flip over and cook the otherside until lightly browned.
Repeat for the remaining batter, adding oil to the pan as required and also giving it a wipe first with kitchen roll to remove excess 'swirl' as it will caramelize and stick to the pan.
To make the topping simply mix the sugar and water together then pour over your warm pancake stacks.