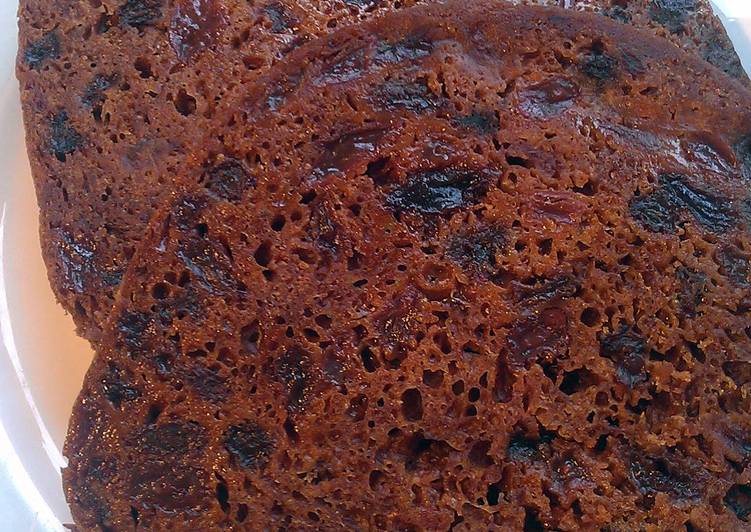 You can make Vickys Scottish Clootie Dumpling, GF DF EF SF NF use 13 ingredients and 6 step. Here's how to cook }.
Ingredients make Vickys Scottish Clootie Dumpling, GF DF EF SF NF
You Need self-raising gluten-free flour.
You Need gluten-free brown breadcrumbs.
You Need vegetable suet.
You Need xanthan gum if using GF flour.
You Need bicarb of soda / baking soda.
You Need ground cinnamon.
You Need ground ginger.
You Need currants.
You Need sultanas.
You Need soft dark brown sugar.
You Need (lyles) golden syrup.
You Need milk or dairy-free alternative, amount varies due to suet.
You Need 'cloot' – a large square piece of muslin cloth* or pillowcase.
Steps make Vickys Scottish Clootie Dumpling, GF DF EF SF NF
You can use a greased pudding bowl in place of the cloot, covered with a piece of tented foil secured with a rubber band around the rim.
First put your clean cloot in some boiling water. Take the cloot out of the water, wring it out, lay it flat and dust well with gluten-free flour. Smooth the flour over the cloot with your hands to get an even spread.
Mix all the ingredients together with enough milk to make a fairly soft consistency. Make sure everything is mixed well.
Place the mixture in the middle of the cloot, draw the corners together evenly but leave room for the suet to expand. Tie the cloot shut securely with string. Put a plate or trivet in the bottom of a deep pan and place the clootie dumpling on top of it. Cover the dumpling with enough boiling water so it's completely submerged and cooks evenly. Simmer for 2.5 to 3 hours.
Carefully remove the dumpling from the pot and put it in a colander in the sink. Untie the string and gently pull the corners of the cloot apart. Put a plate over the dumpling in the colander and whip it over. Carefully peel the cloot away from one corner and behold your glorious dumpling!.
Some people like to oven dry their dumpling at this stage. I don't, it dries it too much and too fast. Let it cool and dry on it's own. It will keep for 3 months so it has plenty of time! Make in December to be mature by Hogmanay or as part of your Burns Supper on January 25th! Reheat and serve sliced with custard, or have the slices cold, spread with some butter and apricot jam. My grannie would fry the slices in butter when we were young, lovely!.