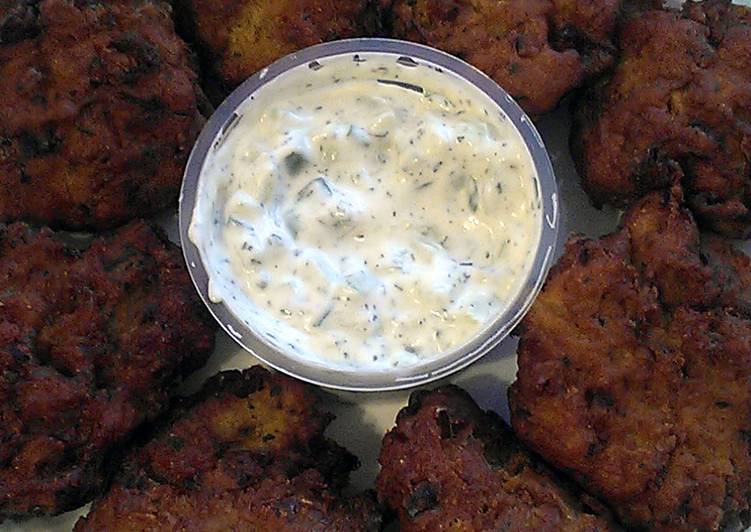 You can make Vickys Onion Bhajis, GF DF EF SF NF use 11 ingredients and 7 step. Here's how to}.
Ingredients cook Vickys Onion Bhajis, GF DF EF SF NF
You Need 140 grams gram / chickpea flour.
You Need 1/2 tsp baking soda / bicarb of soda.
You Need 2 large onions, finely sliced.
You Need 3 tbsp fresh coriander, finely chopped.
You Need 1 tsp ground cumin.
You Need 1/2 tsp chilli powder.
You Need 1/2 tsp ground fenugreek.
You Need 1/2 tsp ground turmeric.
You Need 1/2 tsp salt.
You Need 7-9 tbsp cold water.
You Need oil for frying.
how to cook Vickys Onion Bhajis, GF DF EF SF NF
Mix the flour, onions, baking soda, coriander, salt and spices together in a bowl.
Add 7 tbsp of water to make the mixture bind together. If you need more, add it but don't make it too wet, you shouldn't need more than 9.
Heat 2 – 3 inches of oil in a pan until around 180C/350F. It's the right temperature if you can drop a piece of cubed bread in and it toasts in 15 seconds.
Mould handfuls of the mixture into balls. Using a slotted spoon, place them into the oil. Don't overcrowd the pan, fry in 2 batches.
Fry for 10 seconds then flip over and fry 10 seconds on the other side. They should be golden brown.
Remove and let drain on kitchen towel. Keep going until all the bhajis are fried off.
Cover with foil to keep warm and serve with mango chutney or a raita. I have a recipe for dairy-free raita posted with my pakoras recipe linked below https://cookpad.com/us/recipes/334206-vickys-chicken-pakoras-with-a-cool-raita-dip-gluten-dairy-egg-soy-nut-free.