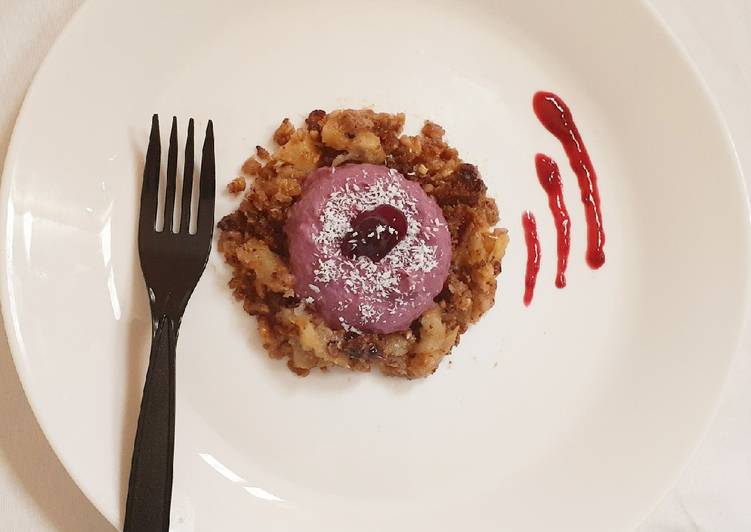 You can make Coconut berry pudding with Apple crumble Vegan use 14 ingredients and 30 step. Here's how to make }.
Ingredients make Coconut berry pudding with Apple crumble Vegan
You Need 1 cup Coconut cream(canned).
You Need 1 cup frozen mixed Berry.
You Need 3 tablespoon regular Sugar.
You Need 2 tablespoon Cornflour.
You Need For Apple crumble.
You Need 1/2 cup roasted flatten rice(poha).
You Need 2 Apples.
You Need 1 teaspoon Cornflour.
You Need 2 teaspoon regular sugar.
You Need 1/4 cup All purpose flour.
You Need 1/4 cup Jaggery powder.
You Need 2 tablespoon Vegetable oil.
You Need 5-6 Walnuts.
You Need as needed dessicated coconut to garnish.
Steps cook Coconut berry pudding with Apple crumble Vegan
Take 1 cup of frozen mixed berries and place them to a saucepan..
Reserve 1/4th cup of berry liquid to a cup which will be used later..
Cook the berry mixture in medium heat until the berries become soft and mushy..
With a hand blender blend the mixture to make a compote like consistency. If some chunks of berries are not blended it is ok..
Add in 3 tablespoon of sugar and stir well to mix..
Cook until sugar melts completely..
Take out 1/4th cup of the compote to a cup for topping and garnish..
Take 1 cup of thick coconut cream and add in to the prepared berry compote. Keep flame in low heat. Note that the cream should be thick, so use only thick part of the cream leaving any liquid from the cream..
Stir well to incorporate cream to the berry mixture..
Take 2 tablespoons of cornflour and mix to the previously reserved berry liquid..
Mix well to make a mixture and add in to the coconut berry mixture slowly, stirring constantly..
Cook in medium low heat until the mixture becomes thick custard like consistency..
Remove from heat and stir continuously until the mixture becomes little cool..
Prepare some pudding mould by lining them with cling film. I use small ramekin bowls and some silicon moulds to set the pudding..
Pour the cool pudding mixture to each mould, cover and keep in the refrigerator for about 4 hours to set completely..
For the apple crumble take 1/2 cup of roasted poha or flatten rice to a mixing bowl. I use brown roasted flatten rice as I love it to have with coconut cream. You can use oats instead of flatten rice..
Add in 1/4th cup of all purpose flour and 1/4th cup of powder Jaggery to the flatten rice bowl. I use powder jaggery, you can use grated jaggery instead..
Stir well to mix and then add in 2 tablespoon of vegetable oil..
Crush some walnuts and add in to the mixture..
Also add in 2 tablespoon vegetable oil and mix well so that the mixture becomes moist..
Take 2 apples, peel and chop roughly..
Take a 8-9 inch diameter baking dish, put the chopped apples there. Sprinkle 2 teaspoon of sugar and 1 teaspoon of cornflour..
Mix well to coat cornflour and sugar nicely and spread evenly..
Now spread the prepared flatten rice mixture over the apply mixture..
Bake them in a preheated oven at 180 degree C for 15 to 20 minutes or until the top becomes golden brown..
When the pudding sets completely, take out from the refrigerator and demould carefully. As I used cling flim, it becomes easy to demould..
Transfer to a serving plate. Also place some apple crumble..
Sprinkle some dessicated coconut on the top of the pudding, also pour some berry compote and serve immediately..
They are perfect vegan dessert to serve to any party or gatherings..
.